About Pacific North Chiropractic
Chiropractor Dr. Namir Moussa loves helping people, it's the reason he became a chiropractor in the first place. Seeing the smiles on their faces when they realize how far they've come from day one to now is very fulfilling.
Above all, we care about you and your overall health. That's why our office is so warm, positive, and friendly—kid friendly, family friendly; everyone's welcome!
Our Mission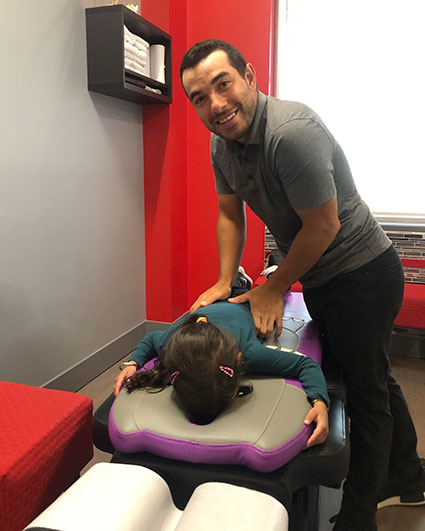 Our mission is to offer high-quality, hands-on chiropractic care to all. Using state-of-the-art equipment, our practice will focus on family wellness and education to improve the health and vitality of the people in Bellevue and surrounding communities.
We want to help families achieve and maintain health naturally, by partnering with mothers before and after birth to have the best birth experience. We help children grow up without struggles due to a traumatic birth process.
Chiropractic has been proven safe for everyone, from newborn to elder. Mom doesn't have to be uncomfortable during her pregnancy, which makes everyone happy. Your whole family can benefit from chiropractic care.
Taking a Natural, Hands-on Approach to Improving Health
Whatever your health goals are, come in and let's see if we are able to help you naturally and holistically. It doesn't matter what it is, we'll do our best to help you.
Try our non-invasive, conservative approach to better health. A significant number of complaints, issues, and problems may show improvement with chiropractic care.
Benefits You Can See
Dr. Moussa has seen a lot of newborns and loves taking care of kids. One family he remembers had triplets, one of whom was having trouble with colic and sleeping. He had the baby under care for a month, and he improved substantially.
The mom eventually brought the other two babies in as well, and they experienced great benefits in their sleep habits and overall wellness. That was one of his coolest experiences!
MEET DR. NAMIR MOUSSA
We're Here to Help You
We want our practice members to live happier and healthier lives, connected to a nervous system that's fully functioning. Contact us to address your questions and concerns.

About Pacific North Chiropractic | (425) 679-6048